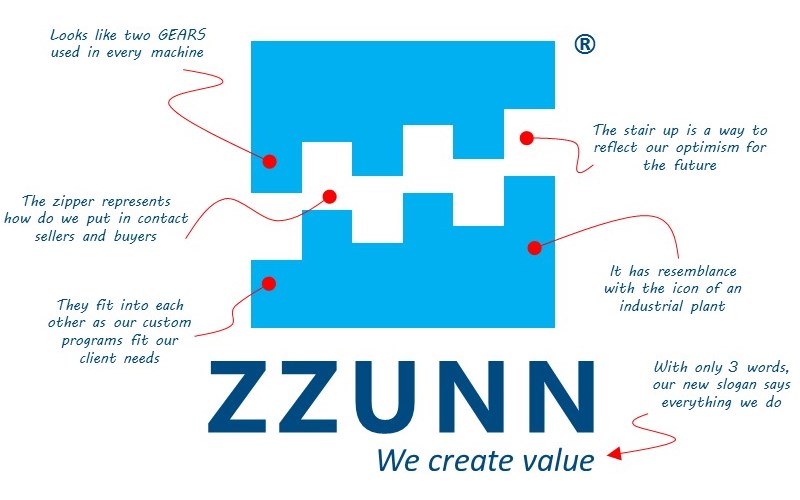 Our new logo makes so much sense, as it embraces our business model from many angles. It's like having multiple pieces of data in a two-dimensional barcode that human eyes can read.
The launch of our refreshed brand identity and complete redesigned website kicks-off a new era at ZZUNN, as we wrap up a year of strong growth and look forward to release new services, showing our capabilities and our continued commitment to the industry.
The logo has the abstract form of two gears about to be engaged, related to our primary activity, the sale of surplus assets, because almost every machine that we offer has some in it.
The bottom segment of the image is very similar to the typical illustration of an industrial plant, which represents our clients.
The symmetry of the image, that allows both segments to fit into each other portraits our philosophy of adapting to our customer needs.
In the middle, you can spot the form of a zipper, which is a metaphor of our goals, working as intermediaries that link together sellers and buyers.
You will also find the shape of a staircase, which reflects our forward thinking and the very positive outlook that we see towards the future of our company.
We have put a lot of work to find the correct design that will represents us in the years to come and we hope you like it.
In addition, we expect you will enjoy the experience of browsing through our new multilingual website, its online-store and the new segment of industrial related articles.
Please let us know your comments and thoughts about these changes here.
---